50% Hypnosis Affiliate Program
Earn from $24.50 to $49.50 per Sale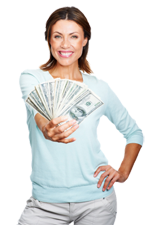 Do you have customers, clients, fans, readers or friends who could benefit from our custom hypnosis sessions for weight loss, confidence-building and smoking cessation? If so, you can make money while spreading the word about our unique service.
Why do we do it? Because marketing is a distraction from our core competency, which is making hypnosis sessions for our customers. And yet, we absolutely need marketing to stay in business. If you can help us think less about marketing, and more about making high-quality, custom hypnosis recordings, we will gladly split 50% of every sale with you.
Our program is simple: Every person who you refer to our website using your affiliate link receives a browser cookie that lasts for one year (365 days). If they order a custom session during this time, we will pay you a 50% commission. Payments are made monthly by PayPal (a $50 minimum applies).
Because our pricing is geared toward personalized sessions, our average sale is significantly higher than other hypnosis affiliate programs. You can expect to make between $24.50 and $49.50 per sale.
To join our affiliate program, please send us an e-mail with your name, e-mail address and the source(s) of your traffic. We are dedicated to finding quality affiliates who can uphold our reputation online, so a brief screening process will apply.