Hypnotizr Gains a Female Voice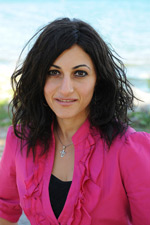 I'm proud to announce that all three of Hypnotizr's programs—Sustainable Weight Loss, Build Inner Strength and The Ex-Smoker's Secret—are now available in a female voice, provided by Faye Elatrash of The Life Enhancement Centre. The scripting for both the male and female voices is the same; only the delivery is different.
Faye was one of my hypnotherapy students back in 2007. She is certified as a hypnotherapist with the National Guild of Hypnotists (NGH) and the Association of Registered Clinical Hypnotherapists (ARCH) Canada, and has additional training in Neuro-Linguistic Programming and life coaching. In 2008, she founded The Life Enhancement Centre, where she specializes in anxiety and depression for women.
I have often been impressed with Faye's unflagging optimism, joie de vivre and supportive nature—I like to think of her as a personal cheerleader for your goals and ambitions.
Here is a recording of Faye performing a modified Elman induction:
To order a recording made in Faye's voice, simply select "Female hypnotist" when filling out your order form. If you're an early customer and would like your male recording re-created in Faye's voice, simply contact us and we'll remake your session(s) absolutely free. Moving forward, all new programs will be recorded in both Luke Chao's and Faye Elatrash's voices, which means that you can specify which hypnotist you want when you order your custom session.