Introducing the Man Behind Hypnotizr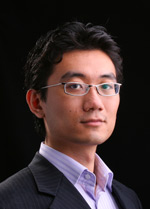 I'm Luke Chao, creator of Hypnotizr and this blog.
I've been practicing hypnosis since I was 15 years old—half a lifetime ago. Actually, that's a half-truth. In those early days, the only person I hypnotized was myself. I did hypnosis by recording sessions into a microphone hooked up to my computer and then playing them back to myself through headphones. I don't think I actually summoned up the courage to hypnotize another human being (or found a willing participant) until I reached university, a couple of years later.
I remember the days when I first learned hypnosis. I had a scientific upbringing (my father's a doctor, my mother a scientist) and I had been reading a lot of Carl Sagan, Richard Dawkins and James Randi at the time. I had my skepticism meter turned to "overdrive," and my first reaction to hypnosis was that it couldn't possibly work.
Fortunately, I didn't let my initial skepticism stop me from learning further. When I started reading books about hypnosis, it started to make sense to me. I also learned and practiced a related discipline called NLP (Neuro-Linguistic Programming). After I was able to make hypnosis work for my own fear of public speaking, my skepticism changed.
The most important thing I learned was to abandon all my preconceptions about hypnosis. Everything negative I had associated with hypnosis (brainwashing, mystical states, make-believe) turned out to be unnecessary for the actual practice of hypnosis. I started to think of hypnosis as the practice of effective communication—speech so powerful that it changes the way another person thinks, feels or automatically acts.
After university, I took a course in hypnotherapy and became certified by the National Guild of Hypnotists, and in 2006 I opened The Morpheus Clinic for Hypnosis in Toronto. I did two things rarely done by a hypnotherapist, at least in my city: I offered an unconditional money-back guarantee and I publicly denounced past-life regression as pseudo-science. If I was going to be a hypnotherapist, I decided, I was going to be my own brand of hypnotherapist. Over the years, Morpheus and its clients have been very good to me, and I became one of a fortunate few who have been able to make a good living from hypnotherapy.
My ambitions have grown since I rented that three-room office suite at 15 Elm Street. Now I have my sights set on the world, and I've created Hypnotizr to export my brand of hypnosis to everybody outside of Toronto.
Hypnotizr's mission is to provide high quality hypnosis recordings, customized to every client's needs, at a price they can afford. Just like Morpheus, we have an unconditional money-back guarantee, and we promise never to feed you a line of nonsense.
I'm even more excited about Hypnotizr than I was about Morpheus. Morpheus was hypnosis for skeptical people who live in Toronto. Hypnotizr is hypnosis for everybody: the student who can't afford $150 sessions, the rural retiree who lives five hours away from any decent hypnotherapist, the shy introvert who's too nervous to visit an office in person... plus anybody who just wants good, old-fashioned hypnosis made for their needs and delivered to their inbox.
So why am I writing this blog post now? Our press release went out this morning, so I guess you could say it's official: I announce Hypnotizr to the world. Our official launch will be New Year's, 2012.
If you keep reading my blog, I'll give you a window into the world of Hypnotizr, hypnosis and myself. I promise to keep my posts relevant, sensible and hype-free. If you have any questions, free to sign up for an account and leave a comment. I hope to hear from you soon.