Why Choose Us?
Why Hypnotizr Is Your Best Choice for Online Hypnosis
There's an old adage that says: "Price, quality and service... choose any two."
Before Hypnotizr, this was unfortunately true in the hypnosis world. If you went with a top hypnotherapist, you got quality and service, but at a significant cost. If you went with an inexpensive hypnotherapist, you compromised on quality. And if you chose hypnosis recordings, you got a low price and good quality, but the sessions wouldn't be tailored for you.
Hypnotizr delivers on all three points. We have a library of top-notch recordings, covering a wide range of specific client needs, that we draw upon to create customized sessions for you. That's how we can deliver quality recordings, personalized for each customer, at an affordable price. And it makes Hypnotizr totally unique in the hypnosis world.
Here's a comparison between Hypnotizr, the average hypnotherapist and a typical CD or MP3 hypnosis product: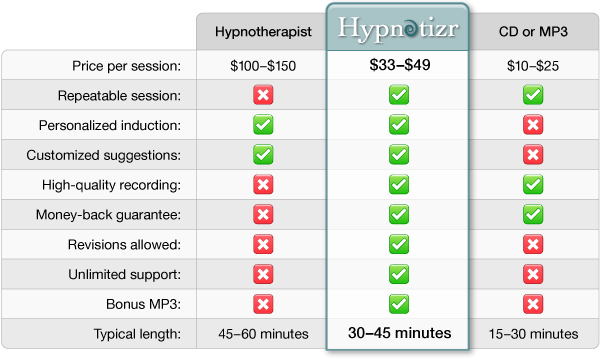 What's So Important About Custom Inductions and Suggestions?
Not all hypnosis sessions are created equal. Here's what matters:
Different people have different personalities, motivations and needs. That means different people need different hypnotic inductions and suggestions. If you've ever listened to a recording and thought That doesn't apply to me at all or This is sounding awfully vague, you understand why one-size-fits-all recordings just aren't as powerful as they could be.
There are two parts to your session that we customize. First, we customize the induction, which is the part of the session that brings you into hypnosis. This is customized through a questionnaire that reveals your personality. Second, we customize the hypnotic suggestions, which are the "meat" of the session, through an analysis of your issue and your needs. A fully customized session represents the most powerful experience that hypnosis can offer.
Our Unconditional, 60-Day Money-Back Guarantee
Because of the manual work involved in creating a session, money-back guarantees are virtually unheard-of in the world of custom hypnosis. Yet we offer not just a guarantee, but an unconditional, no-questions-asked guarantee. Why?
Our mission is to put high-quality, custom hypnosis within reach of the average person. That means we believe that everybody who's interested in hypnosis should have a chance to try it, with confidence that the session they're purchasing is fully backed by the company offering it. We consider our money-back guarantee to be simply good business and the exemplary kind of customer service that we want to offer.